Office Pens & Pensils – Office Supply Store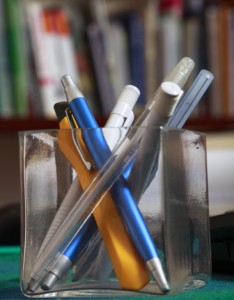 Even in the 21st century, not all business communication and idea generation is done digitally. That's why Sandia Office Supply provides the writing and correction supplies you need!
Pens and Pencils
Sandia Office Supply carries all types of writing implements and their accessories, including:
Of course, we also carry correction supplies—"white-out" fluid, correction tape, etc. as well as highlighters, markers and dry erase boards and supplies.
Promotional Products
Pens and pencils aren't just good for getting your business done, they're good for getting your business seen. Sandia Office Supply carries hundreds of colors and styles of pens that you can customize with your logo! Talk to your personal customer service representative about creating your own logo pens. (Promotional pens do require a minimum order.)
A Local New Mexico Company with National Reach
As New Mexico's largest independently-owned office supply store, Sandia Office Supply is able to provide you with more than just a 30,000-item inventory. We're able to provide unmatched customer service.
When you open an account with us, you are assigned a personal customer service representative who will help you maximize all the benefits of doing business with Sandia Office Supply, including:
Free next-day delivery with no minimum order
No-hassle returns
A nationwide supplier network
Barcode scanner online ordering capability
Whether you need one pack of pens and pencils or office furniture to outfit a new branch, Sandia Office Supply is your one-stop-shop!
Call 505-341-4900 or order your promotional pens and pencils from Sandia Office Supply of Albuquerque, NM today!