Computer Desks & Office Desks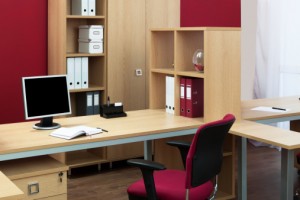 When you're looking for office desks for your space, you can count on Sandia Office Supply to have a large selection of styles to fit any budget, including compact/student desks and workstation/computer desks. We are New Mexico's only HON Showcase Dealer and work with over 100 different furniture manufacturers so you can find the best office furniture and desks for your needs.
Feeling overwhelmed? Don't know where to start?
Don't worry.
Our team of experienced professionals is here to help recommend and guide product selection based on your unique space and needs. Contact us for more information today.
Purchasing Computer Desks from our Office Furniture Supply Store in Albuquerque
At Sandia Office Supply, we offer you full support and professional expertise when it comes to getting the best office desks for your space.
Before you purchase office furniture, our dedicated furniture representatives will meet with you to discuss how you can maximize your space and budget. Some of the things we'll discuss include:
Functionality: Before we can recommend products, we need to understand the functionality of your office and the specific use each desk will have. By understanding the big picture as well as the specific details of how individual spaces will be used, we can help you get the products you need to maximize workflow and productivity.
Aesthetics: It's important for a professional office to have a uniform look. Our design experts will work with you to help you choose office desks that will complement your décor and add to the image you are trying to present.
Design: Once we understand the functionality you need and the aesthetics you are trying to create, we can recommend specific designs and materials for your office desks.
Budget: Staying within budget is important. We work with you to ensure you get the best value for your needs and constraints.
We deliver and install all of our office furniture at reasonable rates. We also provide free space planning with all furniture purchases.
Contact Sandia Office Supply for all of Your Office Furniture Needs
Office furniture is a large investment—and the furniture needs to last. We are committed to helping you get durable products that will withstand the daily abuse of a functional workspace.
As New Mexico's largest independently-owned office supply and furniture store, desks aren't the only thing we carry. We are proud to be your one-source solution for everything you need to create and maintain a functional office, including general supplies, printer supplies, breakroom supplies, Keurig coffee, janitorial supplies and more! We're here to help you keep your office running smooth and efficiently.
Call 505-341-4900 to order your office desks from Sandia Office Supply of Albuquerque, NM today!