Twist 'n Fill™ Janitorial Cleaning Supplies
We are proud to be your local dealer for Twist 'n Fill™ cleaning supplies in New Mexico.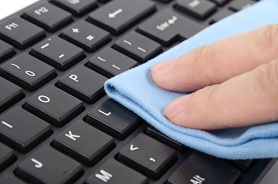 Some of the reasons we are proud to carry this product include the following:
Supports Green Cleaning Solutions

A cleaning system designed by 3M, there are a variety of green cleaning solutions compatible with this system to ensure your space stays clean without compromising indoor air quality.

Reduces Exposure to Cleaning Solutions

The 3M Twist 'n Fill™ system safely and accurately mixes cleaning solutions to ensure proper application.

Can Accommodate a Variety of Cleaning Products

The 3M Twist 'n Fill™ system can deliver over 30 different cleaning products with a single dispenser.

Easy to Use

When it comes to janitorial supplies, the 3M Twist 'n Fill™ is one of the easiest to use. As the name implies, just insert the bottle, twist and fill!
If you would like to learn more about installing the 3M Twist 'n Fill™ system in your office, please give us a call. Our friendly representatives are here to help you get the affordable janitorial supplies you need to keep your office in tip-top shape!
Contact Sandia Office Supply for Quality Cleaning Supplies
Sandia Office Supply is your single-source solution for all of your office and cleaning supply needs!  As the largest independently-owned office supply store in New Mexico, we have the resources and capacity to meet every need—from office furniture to copy paper, janitorial supplies and more! Contact us to set up your account today.
Call 505-341-4900 for all of your cleaning supply needs!